Bernadette Schwerdt, Conference Speaker Showreel
About Bernadette
Bernadette is well known for working closely with Conference Planners to help them make their conferences the best they can be. Having staged events herself and designed sophisticated learning and training development plans for many senior managers, she can help you develop the conference theme and devise interesting and unique strategies that make your conference something to remember.
Here's a snapshot of the topics she covers:
Online Marketing
Small Business Sales and Marketing
Technology and Digital Disruption
The Internet of Things
Influence and Persuasion
Motivation and Inspiration
Entrepreneurship and Intrepreneurship
Detailed Outlines of her Speaker Topics:
Online Marketing:
Why big business needs to think like a small business
Lead generation tactics – finding new customers using cost effective digital tools
Sales conversion funnels – converting prospects into customers, keeping customers happy and coming back for more
Selling online – how to make it happen, do it faster and make more money
Online Guerilla Marketing – the art of getting major results with minimal online budgets.
Small Business Sales and Marketing:
Consultative sales skills– practical strategies for building relationships, overcoming resistance and closing the sale
The strategic sales conversation – how to prepare for the sales meeting, identify barriers to sale and use the art of strategic conversation to seal the deal
Pitching for success – how to pitch your product or service in 30 seconds and position yourself for success
Exceptional customer service: how to build instant rapport with everyone, read them like a book and have them eating out of your hand
The Internet of Things (IoT):
What it is, why it matters, who'll be affected, and who the winners (and losers) will be
The Internet of Things – why the rise of the Industrial Internet will eclipse the Industrial Revolution
How to prepare for the IoT – questions to ask, business models to create and how to make it work for your business
How to monetize the IoT and maximise the massive opportunities coming your way – features practical strategies, case studies from enterprise and small business and scenarios featuring real-world examples
Influence and Persuasion:
Salemanship in print – writing words that sell for the digital era
How to write headlines that get results – using formulas to write instant headlines that get results
Content marketing – how to use content to create new customers and keep existing ones engaged
Personal branding – why everyone (even CEOs) need to build a personal brand, how to do it and strategies for creating thought-leadership opportunities
Presenting for Influence – the art of public speaking, speech writing and making an impact on stage
Motivation and Inspiration:
'The Impostor Syndrome' and how it sabotages self-belief, confidence and future earning prospects
Strategies for building confidence, overcoming limiting beliefs and building resilience
Why women fail to fulfil their potential – the roadblocks to success and how to overcome them
How to get from where you are to where you want to be – how to deal with setbacks and mistakes and see failure as feedback
A Pinch of Salt – how Australia's top online superstars broke the rules, added their 'pinch of salt' and created blockbuster businesses that succeeded despite the odds
Entrepreneurship and Intrepreneurship:
Why intrepreneurship is the newest, fastest (and only) way to maximise staff productivity, engagement and loyalty.
How to build an intrepreneur incubator at your workplace (and watch employee satisfaction soar)
How to foster an intrepreneurship mindset with staff so they'll give you more of their time, more of themselves and unleash their passion to help you make a profit
'Direct To Customer' marketing – why big businesses are losing out to the nimble, agile start-up players
Download Bernadette's Speaker Kit: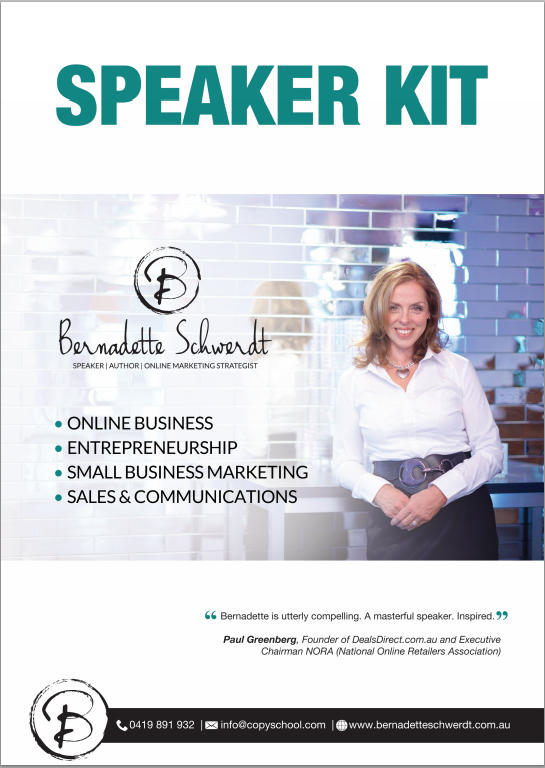 Bernadette's Agent:
Bernadette is exclusive to ICMI Speakers & Entertainers Bureau.
 
Formats:
Bernadette can work within a range of formats and can adapt any topic to a time frame that suits your needs:
Keynotes
2-hour workshops
1-day workshops
2-day workshops
1:1 coaching and small group training
Service offerings:
Bernadette is able to adapt her style of delivery to suit a number of different delivery styles:
Inspirational keynotes
Training and workshop leader
Moderator of panels
"Fireside chat" host
Round table facilitator
If you'd like to use one of these photos in your promotional material, please click download.